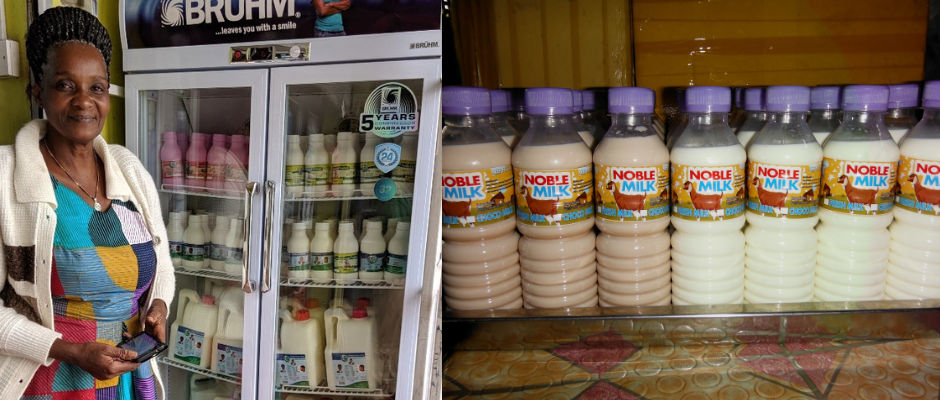 Dairy and Innovation
Our in-country partners, time after time, show us their resilience and their ability to help others build better lives by implementing innovative strategies in their day to day activities. Project 239 'Tanzanian School Milk Project' and Project J490N 'Noble Endeavours Community Development' come from the opposite sides of the world, but are linked through two common factors: dairy and innovation.
Project J239 works in Tanzania as an organization comprised of smallholder dairy farmers. The Project empowers and trains local farmers through breeding programs and a focus on animal husbandry, whilst also supplying the local community with quality and nutritious dairy products.
Recently the Project came up with the innovative solution of investing in Milk 'ATMs' in the Arusha region in order to have more storage space for the project's dairy products in the community. By strategically investing in display refrigerators they have been able to compete with other companies, have strengthened customer relations and confidence and has also cut the organisation's advertising cost as the refrigerators themselves have become their 'poster' in the community! This success means that local farmers can continue to have a steady livelihood.
On the other side of the world in Mindanao, Philippines, J490N has served the local tribal community with a development program focused on implementing Health, Education, Agriculture, Land Redemption and Livelihood, and Sustainability (HEALS) activities. A big focus of their agricultural and sustainability activities have been their Goat breeding project. In 2014, with importation of new genetics from USA and Australia, the project was able to breed a new hybrid dairy goat, named 'The Noble Goat'. This new hybrid goat has allowed for the continued successful expansion of goat breeding and milk production, which has positively impact the lives of local farmers through a sustainable source of income whilst also improving the health of schoolchildren and combating malnutrition.
Innovation, strategy and adaptability continue to be key attributes for our local partners in order to empower and help others build better lives.
Back to Stories