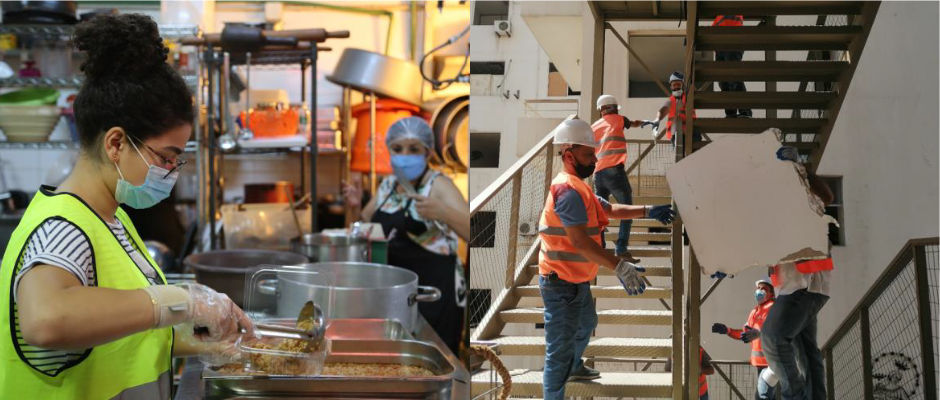 Food for the vulnerable of Lebanon
Images: WFP/ Edmond Khoury
Last week we initiated an emergency relief project in Lebanon, in partnership with the World Food Programme, to meet the need for emergency food assistance that was caused by the recent blast in Beirut, as well as the economic crisis and COVID-19 pandemic. In our blog last week we covered what the plan was for this emergency relief project.
This week, we're proud to provide an update on the situation in Lebanon in relation to the emergency food assistance that has been provided.
To date, 5,416 of the most vulnerable people have received food assistance in the form of 1,000 food parcels to families.
Communal kitchens in the blast affected areas of Beirut are also being supported with food parcels, these kitchens are currently serving 3,000 hot meals each day.
Offloading is continuing on the WFP shipment of 12,500 metric tons of wheat flour that arrived in Beirut last week. The wheat flour will be distributed through to millers and bakeries to help stabilize the price of bread across the country and help ensure the continuity of the national bread supply.
WFP has established temporary improved storage capacity at the Beirut Port for humanitarian goods and cargo.
Unfortunately, following the explosion there was a sharp increase in COVID-19 cases. Due to the explosion many hospitals were severely damaged, meaning space is limited to care for patients. The government announced a 2-week lockdown from last week, along with a 12-hour curfew. Thankfully relief efforts are exempt from these measures.
Back to Stories